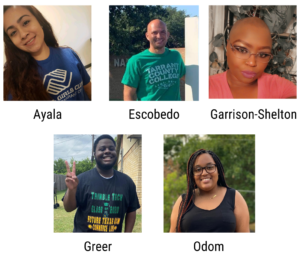 The Barbara Holston Education Fund has awarded five $1,000 scholarships to FWHS program participants who are pursuing higher education or vocational training on their path to self-sufficiency.
The fund was established in honor of Barbara Holston, who served as senior executive of the Fort Worth Housing Authority, FWHS' predecessor, for 23 years.
The 2020 winners are:
Mercedes Ayala, Texas Wesleyan University
Rafael Escobedo, Tarrant County College
Sstephanee Garrison-Shelton, Tarleton State University
Denym Greer, Texas A&M Commerce
Taejah Odom, Texas Wesleyan University
BHEF Scholarships cover educational expenses such as tuition, books, course fees, supplies, course equipment and materials. The awards help FWHS residents overcome financial barriers that can deter them from post-secondary education.
Since its inception, the Barbara Holston Education Fund has awarded more than $15,000 in scholarship funds to help participants increase their academic and vocational achievements. Scholarships are supported solely by contributions to the Fund, a tax-exempt, 501(c)(3) nonprofit organization.
Make a one-time or recurring gift to the Barbara Holston Education Fund today! Visit https://www.bhefund.org/donate/ to help housing clients pursue their educational and vocational dreams.
For more information, email BHEF President Nicole Rubio at nrubio@fwhs.org.